Blazing Saddles redefined comedy comparably to how Star Wars redefined science fiction.
Never shy to evoke controversy, director Mel Brooks' third film is a spoof of westerns while providing a pointed commentary on civil rights. Assisting Brooks with the screenplay included comedy icon Richard Pryor, Andrew Bergman (who wrote the story), Norman Steinberg, and Alan Uger.
Blazing Saddles follows the adventures of Bart (Cleavon Little), the newly-minted Black sheriff of the racist frontier town of Rock Ridge in 1874. The town is the film's send up any Old West Town, USA where all the residents have the last name, Johnson.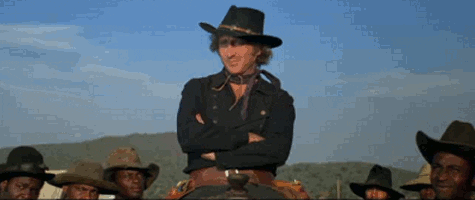 Joining Bart is Jim (Gene Wilder), a drifter and drunk who is the former gunslinger known as the Waco Kid. Opposing them are the forces of Hedley Lamarr (Harvey Korman) and his right-hand man, Taggart (Slim Pickens). Hedley is doing everything he can to force the citizens out of the town from having Taggart and his gang to bully the citizens to enlisting Bart to repulse them so much; they move out on principle so his railroad can go through the town. Hedley does this in the name of the governor, who's played by Brooks.
What ensues is a tale of confronting prejudice and overcoming insurmountable odds. The film tackles everything head on from the awkward situations, the jokes, and racism keeps within consistent pacing without a flinch. It is unabashedly unapologetic about the use of racial slurs.
At the heart of the film is Bart, whose stoic presence resonates throughout the movie. Everything from his initial confrontation with Taggart to persevering despite the racism coming from both sides. He eventually wins over the hearts of the townsfolk and helps get them to fight back.
Two other notable performances include Madeline Kahn as Lily Von Shtupp, Hedley's plant to seduce Bart, and Alex Karras as Mongo, Taggart's primary muscle to annihilate Bart. Kahn provided a credible female comedic presence with her burlesque show in a memorable scene where Bart wins her over.
While Mongo seemed like a one-note character, there's a real endearing quality about him. He wasn't just a simple thug brute Taggart made him out to be. At Mongo's heart lies a gentle soul who didn't only want to be "a pawn in the game of life." Fun fact about the film, Mongo was mostly written by Pryor.
The film is a memorable comedy not because of how the jokes and punchlines landed, but the greater message of overcoming racial injustice was presented as a struggle for everyone. In 2016, a film like Blazing Saddles would likely never get made given current racial climate. The film broke ground because it dared to confront racism at its most controversial. I think it makes the case for the funniest comedy of all time and one of the most quotable.